In 1948 track standout David Bolen (Mktg'50) became the first CU student to participate in the Olympics. Since then nearly 80 Buffs have competed in the Olympics.
Athletes with ties to the Buffaloes did well at the 2012 U.S. Olympic Trials with five Buffs heading to the London games: senior Emma Coburn in the steeplechase, Kara Goucher (Psych'01) in the marathon, senior Shalaya Kipp in the steeplechase, Dathan Ritzenhein (Hist'06) in the 10,000, Jenny Barringer Simpson (Econ, PolSci'09) in the 1,500 and senior Flora Duffy in the triathlon competing for Bermuda.
According to David Plati, associate athletics director, that ties the CU best for the most athletes competing in track for the United States in a Summer Olympics, matching the five in 2008 as Barringer, Goucher and Ritzenhein also participated that year in Beijing. In the 2000 Sydney Games, nine former Buffs were Olympians, six in track, but three competed for their native countries outside the U.S., with one in women's basketball, one in mountain biking and another in cycling.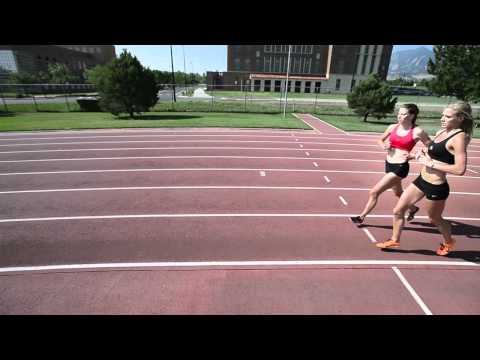 Coburn and Kipp become just the third and fourth Buffs to compete in the Summer Games while still eligible to compete as collegians; the late Ted Woods (football/track) was a sprinter in the 1960 Olympics in Rome, and Barringer competed in the steeplechase in 2008 – both were juniors as are Coburn and Kipp.
What was the most athletes CU has ever had in a single Olympics? The 1972 Winter games when 13 represented the Buffs, followed by 12 in the 1968 Winter games. Read about our alums who have played pivotal roles behind the scenes of the Olympics.
Check out the 2012 London Olympics Schedule
TRACK AND FIELD
Emma Coburn
Kara Grgas-Wheeler Goucher
Shalaya Kipp
Dathan Ritzenhein
Jenny Barringer Simpson
WINTER 2010 VANCOUVER
ALPINE SKIING
Casey Puckett
Daron Rahlves
FREESTYLE SKIING
Coach Tyler Shepherd
SUMMER 2008 BEIJING
BASKETBALL
Aija Putnina – Latvia
TRACK AND FIELD
Kara Grgas-Wheeler Goucher
Billy Nelson
Dathan Ritzenhein
Jenny Barringer Simpson
Jorge Torres
WINTER 2006 TORINO
ALPINE SKIING
Neha Ahuja – India
Daron Rahlves
FREESTYLE SKIING
Jeremy Bloom
NORDIC SKIING
Justin Freeman
SKI JUMPING
Tommy Schwall
SUMMER 2004 ATHENS
CYCLING
Deirdre Dement Barry (Silver, Individual Time Trial)
Tyler Hamilton (Gold, Individual Time Trial)
MOUNTAIN BIKING
Jeremy Horgan-Kobelski
TRACK AND FIELD
Susan Bartholomew-Williams (Bronze, Triathlon)
Alan Culpepper
Dathan Ritzenhein
Shayne Wille Culpepper
WINTER 2002 SALT LAKE CITY
ALPINE SKIING
Tahir Bisic – Bosnia
Casey Puckett
Daron Rahlves
FREESTYLE SKIING
Jeremy Bloom
NORDIC SKIING
Katerina Hanusova – Czech Republic
SKI JUMPING
Tommy Schwall
SUMMER 2000 SYDNEY
CYCLING
Tyler Hamilton
MOUNTAIN BIKING
Travis Brown
TRACK AND FIELD
Hannah Cooper – Liberia
Alan Culpepper
Shayne Wille Culpepper
Karol Damon
Adam Goucher
Yvonne Scott – Japan
WINTER 1998 NAGANO
ALPINE SKIING
Andy LeRoy
Casey Puckett
Daron Rahlves
NORDIC SKIING
Katerina Hanusova – Czech Republic
Lucie Hanusova – Czech Republic
Ondrej Valenta – Czech Republic
SNOWBOARDING
Shannon Dunn (Bronze, Halfpipe)
SUMMER 1996 ATLANTA
BASKETBALL
Coach Ceal Barry (Gold, team)
MOUNTAIN BIKING
Julie Furtado
Eva Orvosova – Slovakia
TRACK AND FIELD
Yvonne Scott – Japan
Mary Decker Slaney
WINTER 1994 LILLEHAMMER
ALPINE SKIING
Caroline Gedde-Dahl – Norway
Casey Puckett
BOBSLED
Joseph Sawyer
NORDIC SKIING
Ingrid Langell Butts
Ben Husaby
WINTER 1992 ALBERTVILLE
BOBSLED
Joseph Sawyer
ALPINE SKIING
Casey Puckett
NORDIC SKIING
Ingrid Langell Butts
Ben Husaby
SUMMER 1992 BARCELONA
CYCLING
Tim Peddie
WINTER 1988 CALGARY
ALPINE SKIING
Pam Fletcher
Beth Madsen
FIGURE SKATING
Debi Thomas (Bronze, Ladies' Single)
NORDIC SKIING
Ingrid Langell Butts
Kristen Petty
SUMMER 1988 SEOUL
TRACK AND FIELD
Mary Decker Slaney
WINTER 1984 SARAJEVO
ALPINE SKIING
Coach Bill Marolt
TRACK AND FIELD
Art Burns
Mary Decker Slaney
WINTER 1980 LAKE PLACID
ALPINE SKIING
Coach Bill Marolt
Cary Adgate
Pete Patterson
NORDIC SKIING
Coach Mike Devecka
WINTER 1976 INNSBRUCK
ALPINE SKIING
Cary Adgate
Greg Jones
Pete Patterson
LUGE
Robert Berkley, Jr.
Richard Cavanaugh
NORDIC SKIING
Coach Mike Devecka
Ronald Yaeger
SUMMER 1976 MONTREAL
GYMNASTICS
Debra Wilcox
TRACK AND FIELD
Jane Wardell Frederick
William Jankunis
WINTER 1972 SAPPORO
ALPINE SKIING
Hank Kashiwa
Michael Lafferty
FIGURE SKATING
Douglas Berndt
LUGE
Robert Berkley, Jr.
Richard Cavanaugh
Margaret Ann Frair
NORDIC SKIING
Coach Mike Devecka
Michael Gallagher
Robert Gray
Robert Kendall
Clark Matis
Jay Rand, Jr.
Ronald Yaeger
SUMMER 1972 MUNICH
BASKETBALL
Coach Hank Iba (Silver, team)
EQUESTRIAN
James Wofford
TRACK AND FIELD
Jane Wardell Frederick
ALPINE SKIING
Coach Bob Beattie
Jim Barrows
Jimmie Heuga
William "Billy" Kidd
Vladimir "Spider" Sabich
Sandra Shellworth
NORDIC SKIING
Coach Mike Devecka
Michael Gallagher
Robert Gray
Robert Kendall
Jay Rand, Jr.
Thomas Upham
BASKETBALL
Coach Hank Iba (Gold, team)
EQUESTRIAN
James Wofford
TRACK AND FIELD
William Toomey (Gold, Decathlon
ALPINE SKIING
Coach Bob Beattie
Jimmie Heuga (Bronze, Slalom)
William "Billy" Kidd (Silver, Slalom)
William Marolt
Annibale John "Ni" Orsi
Wallace "Buddy" Werner
NORDIC SKIING
Michael Gallagher
SUMMER 1964 TOKYO
BASKETBALL
Coach Hank Iba (Gold, team)
WINTER 1960 SQUAW VALLEY
ALPINE SKIING
Frank Brown
FIGURE SKATING
Donald Jenkins
NORDIC SKIING
John Dendahl
SUMMER 1960 ROME
BASKETBALL
Burdette Haldorson (Gold, team)
TRACK AND FIELD
Ted Woods
WINTER 1956 CORTINA D'AMPEZZO
ALPINE SKIING
Wallace "Buddy" Werner
FIGURE SKATING
Donald Wilkinson Jenkins
SUMMER 1956 MELBOURNE / STOCKHOLM
BASKETBALL
Burdette Haldorson (Gold, team)
Robert Jeangerard (Gold, team)
TRACK AND FIELD
David Bolen